About Power Design
Established in 1994 by two National Emmy-award winning partners, Power Design creates websites, branding, collateral, social media and digital stories. Whether it be storytelling through infographics on social media or designing a mobile responsive website that promotes educating young girls to run for office, Power Design has the experience to navigate your next project.
Power Design collaborates with pharmaceutical companies, financial institutions, universities, community businesses and nonprofits to help grow their businesses. Personable and passionate professionals that are high on capacity and low bureaucracy.
Website Design and Social Media
Videos, Digital Storytelling, Animations
Logo Design
Print Collateral
Presentation Design
Trade Show Booth Design
"A heartfelt thank you for everything you and your team continue to do to make sure our website is top notch! I am grateful for your professionalism and outstanding work ethic—if you all ever need a reference for additional work, I hope you'll list us. I would be happy to sing your praises."
Sara Woods, Esq., Executive Director, Philadelphia VIP
"I have worked with Lisa for over seven years and she has done everything from build websites from the ground up, create a magazine for my business, email marketing, digital and social media marketing, and digital graphics for nightclubs and event venues. Lisa is creative, thinks quickly and outside the box, collaborates but also will work independently if that's what you need, and never drops the ball. Never. And Lisa's positive, upbeat attitude is fantastic even during stressful situations!"
Sharon Boothe, Vice President of Programs, Mass Torts Made Perfect, Inc.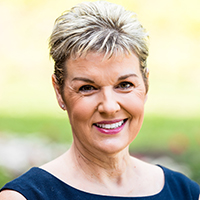 Lisa Delaney
President
Power Design
Lisa Delaney is a graduate of Northern Illinois University. She joined WCAU-TV (CBS) as Senior Graphic Designer where she executed creative solutions for all on-air and off-air needs including news, promotional and programming. In January of 1994, Lisa was selected as one of ten Graphic Designers from around the world to work on location at the 1994 Olympic Games in Lillehammer, Norway. Lisa won a 1994 National Emmy for her work on the technical team remote for the Lillehammer games.
Lisa co-founded Power Design, a creative solutions studio, in May of 1994. Power Design boasts an established A-list of clients from GlaxoSmithKline and Comcast to the University of Pennsylvania. The studio and its work has been garnered with over 75 industry awards as well as being featured in many print publications and media organizations including HOW, PRINT, USA Today, FOX, ABC, and NBC.
Lisa has a heart for justice and has served on the Board of Directors as Vice President for Walk Her Home. This non-profit's mission is to create awareness and raise funds for safe houses that provide support and restoration for survivors of human trafficking in Pennsylvania.