Landscape Design for Your Home
by Gwendolyn Johnson, ASLA, Owner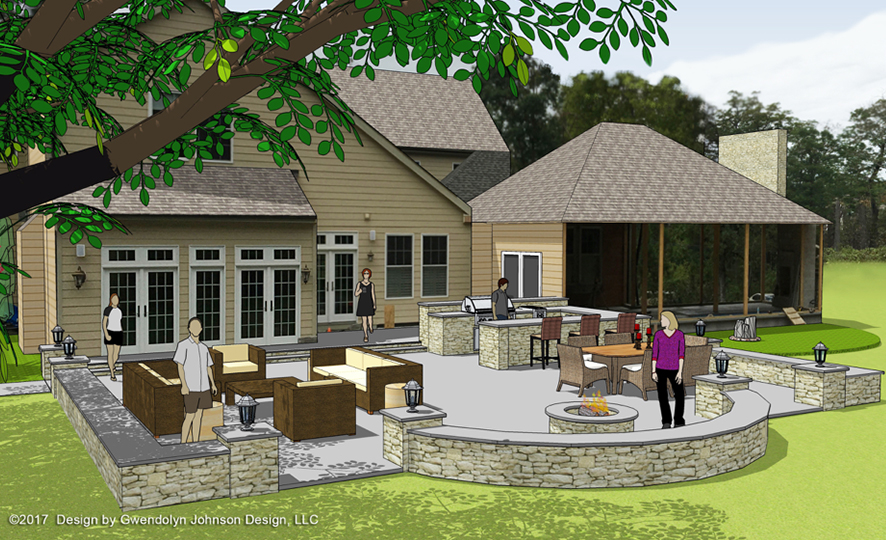 When meeting with new residential clients about their outdoor spaces, some people ask me what outdoor elements are most requested these days. For my clients, it's a wide range from outdoor kitchens to swimming pools to shade gardens. My goal is always to design outdoor spaces that will enrich my clients' individual lifestyles, not necessarily follow trends. But it is an interesting question, so here's what one survey found.
Outdoor Design Elements, ranked in expected order of popularity for 2018:
From American Society of Landscape Architecture (ASLA)
Fire pits/ fireplaces – 66.0%
Lighting – 65.4%
Seating/dining areas – 64.0%
Outdoor furniture – 59.1%
Outdoor kitchens – 58.8%
Decking (i.e., rooftop decking, etc.) – 53.6%
Grills – 50.0%
Movie/TV/video theaters, wireless/internet, stereo systems – 48.0%
Outdoor heaters – 40.5%
Stereo systems – 36.9%
Pools and spa features (hot tubs, Jacuzzis, whirlpools, indoor/outdoor saunas) – 36.9%
Utility Storage – 32.3%
Hammocks – 29.2%
Outdoor cooling systems (including fans) – 28.5%
Showers/baths – 22.9%
Source:  https://www.asla.org/NewsReleaseDetails.aspx?id=53135. Accessed 11/19/18.
If you'd like to add any of these elements to your outdoors spaces, please feel free to call me to discuss the possibilities.
Gwendolyn Johnson, ASLA, Owner
Gwendolyn Johnson Design, LLC | Landscape Design for Your Home
610-896-8444