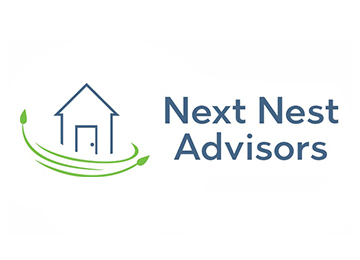 Next Nest Advisors
Senior Living Advisors
About Next Nest Advisors
Next Nest Advisors provides expertise and compassion to ensure that the next nest is the best choice, tailored to the specific needs of you or your loved one.
When you've decided it is time to relocate yourself or a loved one to a senior living community, it is easy to be overwhelmed by the many 55+, continuing care, and fee-for-service options available. And once you have identified where to move, the process of leaving a home of many years can seem overwhelming.
Next Nest Advisors is here to help with every step of the process from finding the perfect senior living community, to preparing your house for sale, to moving you into your new home. We provide as much support as you need; it is entirely up to you. Next Nest Advisors creates an easier transition when you decide it is time to move.
"We were relocating from FL to PA and didn't have the time or the resources to find a suitable community for our senior family member who was making the move with us. We had done some preliminary research and knew which facilities were on our "top 5" list but with 2 homes to sell, packing, and a 2 month timeframe, it just wasn't possible to tour them personally or dig deep into the financial aspects to decide which would be the best fit.
Thankfully someone who knew Catherine referred us. We scheduled our first of many "zoom" calls and Catherine got the ball rolling. We really liked the fact that Catherine was not getting paid by any of the communities. Hiring her directly meant that she was truly working on our behalf and in our best interest! That gave us peace of mind.
Catherine is a consummate professional. She is a great listener, has wonderful recommendations, is an outstanding collaborator, and goes the extra mile to make sure that your needs are being met. Our senior family member is so happy with her community and life here. We cannot say enough about Catherine. If you need an advocate for your loved one who will help you understand the complexities of senior living options, do yourselves a favor and hire Catherine Twitmyer. You will be so glad you did!"
PF
"I appreciated Catherine's kindness, understanding, time, knowledge & research. I was thankful she went with me to visit various communities during a lonely, stressful & emotional time."
KD