About Between the Lines Tutoring
Thriving since 2012 and award-winning for the past FIVE years in a row, Between the Lines offers one-on-one tutoring services to all who seek help with writing instruction as well as a wide variety of reading support and enrichment. One of her particular strengths is helping seniors craft their personal statement (and supplementals) for college applications. While Carrie Waldron-Brown's main focus is working with middle schoolers through college students, she also collaborates with adults on professional writing, website redesigns, and editing publications. Additionally, she has helped numerous students win grants and scholarship money through robust essay guidance. Carrie Waldron-Brown has an exemplary academic background and experience both as a teacher of English and Language Arts (certified in PA 7th-12th grades), as well as proven expertise as a writing specialist who has run and established several schools' Writing Centers.
Writing Specialist:
Carrie Waldron-Brown works with students wherever they are in the writing process to provide them with strategies to demystify and enrich their understanding of how to write with clarity and confidence. Also addressed are style tools (grammar/mechanics) to support convincing and well-organized writing. Additionally, Carrie Waldron-Brown has helped hundreds of students through the college application process/the Personal Statement, and she has lectured locally on "Conquering the College Essay."
Remote Tutoring:
For over five years, Carrie Waldron-Brown has been successfully instructing students from afar—from Miami to Singapore as well as up and down the Main Line. Typically, students work seamlessly with video conferencing technology: thanks to shared-screen (Zoom and FaceTime) and shared-document (Google Docs) options, tutoring remotely is as effective as supporting someone elbow-to-elbow
English and Language Arts Course Instruction:
Having taught students from age nine through college, Carrie Waldron-Brown is well versed with much of the literature cannon and supports students to better analyze texts wherever they may be on their learning journey.
Organizational and Executive Functioning Support:
Carrie Waldron-Brown assists students with learning techniques to better grasp and plan out their work for many elements, from writing their first paragraphs and essays to research papers, from exam strategies to SAT/ACT test preparation.
Gifted Learning Enrichment:
When students desire to accelerate their learning, Carrie Waldron-Brown works to develop Independent Study Projects with curricular components to complement their class instruction.
SAT/ACT/Testing support:
There are specific components (especially essays and grammar) for standardized tests which Carrie Waldron-Brown instructs and supports.
Writing
Essays
English
Language Arts
Reading comprehension
Literature analysis
College application essays
Grant and scholarship writing
"I went to Mrs. W-B in 11th needing help with my writing skills. She made it very easy for me to become a better writer. Her writing methods and strategies make me capable of comprehending how to confidently structure an essay and develop my analytical expression. Altogether she has helped me grow as a writer while also strengthening other elements of my junior and senior high school English curriculum.
"I would recommend Mrs. W-B to anyone who feels overwhelmed and/or uncomfortable in English; she can really help you understand writing and analysis of the texts."
Drew, Radnor, Class of 2018
"I came to Mrs. W-B for tutoring because I heard very good recommendations from friends about her, and she met those expectations! I needed help with my writing and how to organize a paper. Mrs. W-B greatly improved my writing by listening to what I had to say, writing down my thoughts, and offering great organizational tools. Also, Mrs. W-B goes out of her way to help me with what I need, from learning material assigned in class to helping me break down a text when I need to read it more deeply." 
Saul, Barrack, Class of 2020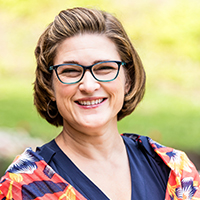 Carrie Waldron-Brown
Owner
Between the Lines Tutoring
Carrie Waldron-Brown, M.A., has a Masters in English Literature from Middlebury College via Oxford University, and a Bachelor of Art in English from Barnard College/Columbia University; she also has a PA English teaching certification (7th-12th grades). As a career English teacher, her wheelhouse is in writing instruction and literary analyses as she guides students with everything from 5th graders needing writing fundamentals to college students delving into research papers. Mrs. Waldron-Brown has expertise supporting  students at any stage of the writing process with every kind of writing assignment, including expository and persuasive papers, the college essay, and the ACT essay. Furthermore, she can skillfully tutor not only English curricula but also other coursework as well as address students' overall organizational needs.
Mrs. Waldron-Brown has a lifelong dedication to education. Recently, she helped launch The Grayson School where she was a Founder, Writing Center Director, and Language Arts Chair. A veteran educator, Mrs. Waldron-Brown has also taught English at several highly competitive middle and high schools, including Radnor High School and Episcopal Academy.
Mrs. Waldron-Brown's tutees gain confidence as they learn writing tools and thinking strategies to improve their understanding of how to cogently express themselves with clarity and conviction.