About Ashley Gerrity Photography
Ashley Gerrity Photography is the premier Philadelphia wedding photographer for couples who want creative, personalized service before, during, and after their celebration. We take breath-taking images of all of the intimate moments of their wedding day. With decades of combined photography experience and hundreds of weddings under our belt, our team of wedding & portrait photographers are able to anticipate and capture all of the heart and soul of your wedding.
Wedding & Engagement Photography & Videography
Portrait Photography – Maternity, Newborn, Family, & Boudoir
Commercial Photography – Professional Headshots, Product, Real Estate
Philadelphia Wedding
Baltimore
Conshohocken
Photographer
Portrait
Boudoir
Photography
Studio
"One of the greatest things about working with Ashley Gerrity Photography is that she never makes you feel like a client, she makes you feel like a friend. Because of this that I was able to feel comfortable and completely trust her vision. She was available to answer even the silliest question and took the time to make sure I was taking in the whole experience. It's the little things that are the most important when there are so many photographers out there.  Ashley Gerrity is an amazing photographer and person. I would recommend her to anyone!"
Paige & Ed
"Ashley is professional, organized, detail-oriented, and incredibly talented. We couldn't imagine our wedding day without Ashley. She made us feel comfortable, confident, and every single photo is perfect! Not only does Ashley capture the day beautifully, but she also handles the day beautifully, remaining in control no matter what. Ashley delivered our photos so quickly after our wedding; friends of mine whose wedding was before ours were jealous that we received our photos first… Ashley is simply the best! We highly recommend Ashley and look forward to working with her again in the future for other occasions!"
Emily & Adam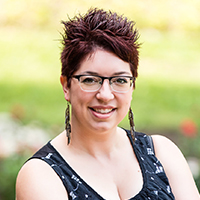 Ashley Gerrity
Creative Director
Ashley Gerrity Photography
Email
Company
: 717.496.7043
Cell
: 717.496.7043
Ashley is an intensely driven, detail-oriented, caffeine-addicted fan of excellent food, and exhilarating romance. She also happens to be a passionate editorial wedding photographer. Her approach to photography is simple – take the time to get to know each couple personally to create breathtaking images. She brings together a diverse background in visual and performing arts to craft your wedding story in fine art imagery that you will pass on for generations to come.
Ashley finds beauty in every person she photographs. She is a romantic at her core. Ashley loves creating intimate and beautiful portraits in an editorial style, while documenting every last detail.
In addition to running Ashley Gerrity Photography, Ashley is a media personality, featured as a regular contributor to Dream Weddings magazine, former host of the HoneyBook webinar series, and host of the Almost Naked podcast, coming soon to iTunes! She gives back to the small business community as an educator & as leader of the Main Line TuesdaysTogether chapter.
When she isn't helping you enjoy every last moment of your wedding day, she is probably snuggling with her two amazing dogs, flying back and forth to Seattle to visit her husband, or baking something extravagant.